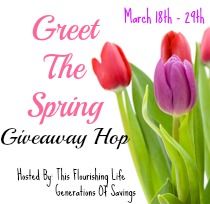 Welcome to the Greet The Spring Giveaway Hop, hosted by This Flourishing Life and Generations of Savings. In keeping with the "spring" theme, I have an amazing giveaway for you — a prize pack of spring cleaning supplies (and more)! Yes, I'm serious!
Not too long ago, I was offered the fabulous opportunity to review some products from Clean It Supply. It took me forever to make my decision, but I think I got the most bang for my buck. I received products that would serve as spring cleaning supplies but also some items that are nice to just stock up on.
One thing I knew I would need was a huge box of trash bags, which sure do come in handy during spring cleaning. Get rid of that clutter — you can use them to pack stuff up for donating to local charities like Purple Heart, shelters, and so on. Either way…you always need trash bags. And I hate — literally hate — when I run out of trash bags. Come on, man, you use the last trash bag, you tell somebody!
But with a supply of trash bags like this…
…it's gonna be a while before I run out. Yay. That's 250 trash bags right there. That should last me a year, right? I'm sure, even with the demands of spring cleaning. And, they're
How about these spring cleaning supplies:
Cleaning wipes make spring cleaning (heck, any cleaning) so much easier! These wipes kill the flu virus and 99.9% of bacteria in seconds! They're strong and bleach-free and alcohol-free, and they have a nice fresh (not overwhelming) scent. With 75 wipes per can and 6 cans in a case…that's a bundle of spring cleaning supplies that go a long way!
I also received these, which couldn't be handier:
Yep, that's a box of 12 Toilet Bowl Rim Hangers. Do they qualify as spring cleaning supplies? Well, OK, maybe not…but consider this: Once you scrub your toilet to a gleaming shine, you hang one of these over the toilet rim and it cleans, deodorizes, and prevents scale build-up. It keeps your toilet water a nice aqua color and emits a pleasant evergreen fragrance. Plus they're water-soluble and biodegradable. And, guess how long each one lasts? Approximately 30 days (roughly 1,500 flushes)…which means that this 12-pack should last me roughly a year — until it's time for spring cleaning again! Woo hoo!
I don't know about you but with spring comes allergies. Then we add spring cleaning to the mix…and the dirt and the dust and the hair — you get the idea…and oof. We're talking lots of sneezing and runny noses and coughing and so on. So, in my mind (be glad you're not there), these qualify as spring cleaning supplies:
Yep. That's a case of tissues. Marcal Fluff-Out Facial Tissues Green Cleaning Products, to be exact. Green cleaning? You bet. They're made from a minimum of 75% totally recycled content. Thirty boxes, 100 tissues per box? These will last a while. That's another thing I hate running out of — tissues.
I also ordered a huge pack of Charmin Basic toilet paper, which just helps me out…because it's nice to have a supply. Of course, you never want to run out of toilet paper, even though it always happens from time to time. It does, right? Please tell me it's not just me. OK, it's not. This Charmin Basic toilet paper meets all EPA guidelines for 65% post-consumer waste content and is septic safe. Clean It Supply can help keep your toilet paper stockpile going — at a good price, while shopping from the comfort of your home, without one tiny bit of inconvenience.
Wait! Clean It Supply has more than spring cleaning supplies!
You will find just about everything you could possibly need (or want) at Clean It Supply. No, seriously. They have janitorial supplies, restaurant supplies, office supplies, supplies for your snack and breakroom, industrial and safety supplies, technology products, ink and toner, and office furniture.
So, you can get all your spring cleaning supplies delivered to your doorstep…as well as, oh say, a filing cabinet and a lectern, a desk, a camcorder and laminator, a shredder and a typewriter, first aid supplies and ID badges, appliances and coffee cups, staplers and file folders, and take-out containers and condiments. I'm serious! But there's lots — seriously, lots — more! And you can find it all at Clean It Supply. It's a one-stop shop. For real.
But let's get back to ourdeal…our spring gift to you, if you will…a prize pack of spring cleaning supplies (and more!) exactly like the one I received! So, to sum up, the winner will receive the following:
250-bag supply of 13-15 gallon white trash bags

6-pack of Boardwalk Fresh Disinfecting Wipes (450-count total)

12-pack of Toilet Bowl Rim Hangers

20-pack of Charmin Basic

30-Box Case of Marcal Facial Tissues
That's roughly $100 worth of spring cleaning supplies (and more!). So here's the deal: This giveaway is open to residents of the continental U.S. (18+). It ends March 29 at 11:59 p.m. EST. Just enter via the Rafflecopter form below and then head on over to the next blog on the list for another giveaway!

a Rafflecopter giveaway

I was not compensated for writing this post. Clean It Supply provided products for review. My opinions are 100% honest and 100% mine.